Welcome to Vrindavan Tour Packages - your one-stop destination for the best travel experiences in the holy city of Vrindavan and its neighboring town of Mathura. We offer a range of customized tour packages to cater to the diverse needs and preferences of our clients. Whether you're looking for a one-day excursion or a longer stay, we have something for everyone.
Explore the Land of Krishna with Vrindavan Tour Packages
At Vrindavan Tour Packages, we understand that every traveler is unique, and that's why we offer tailor-made tours to suit your requirements. Our packages cover all the popular tourist spots in Vrindavan and Mathura, and we also offer the flexibility to design your itinerary according to your interests. Whether you're a devotee looking for a spiritual journey or a history buff wanting to explore the city's heritage, we've got you covered.
Some of our popular tour packages include:
Vrindavan Tour Packages: This package covers all the major temples and holy sites in Vrindavan, including Banke Bihari Temple, ISKCON Temple, and the Radha Vallabh Temple, among others.
Mathura Vrindavan Tour Packages: Explore the twin cities of Mathura and Vrindavan with this package, which includes visits to the Dwarkadhish Temple, the Keshav Dev Temple, and the Krishna Janmabhoomi Temple.
One Day Vrindavan Tour: If you're short on time, our one-day Vrindavan tour package is perfect for you. This package covers the major attractions of the city, including the Banke Bihari Temple and the ISKCON Temple.
Mathura Vrindavan One Day Tour: This package covers both Mathura and Vrindavan in a single day. Visit the Krishna Janmabhoomi Temple in Mathura and the Banke Bihari Temple in Vrindavan, among others.
Mathura Vrindavan Tour by Car from Delhi: If you're traveling from Delhi, our Mathura Vrindavan tour by car is the most convenient way to explore the cities. Our chauffeur-driven cars ensure a comfortable and hassle-free journey.
Vrindavan Tours: We offer a range of customized tours to suit your interests, including heritage walks, food tours, and photography tours.
Book Your Vrindavan Tour Package Today
At Vrindavan Tour Packages, we pride ourselves on our personalized services, attention to detail, and commitment to customer satisfaction. Our team of experienced travel experts will guide you through the planning process and ensure a smooth and hassle-free trip. So, what are you waiting for? Book your Vrindavan tour package today and embark on a journey of a lifetime.
We provide a variety of services in addition to our flexible tour packages in order to make your visit to Vrindavan and Mathura as pleasant and stress-free as possible. To make your vacation relaxing and enjoyable, we offer hotel reservations, transportation services, and more.
Our tour guides are well-versed in the city's history, as well as its culture and customs, and they offer fascinating commentary and background information. To better serve their varied clientele, they are multilingual and can converse in English, Hindi, and other regional languages.
Vrindavan Tour Packages is committed to ethical and environmentally conscious tourist practises. We ask that our customers support local companies and communities, as well as preserve the environment.
We offer the appropriate trip package for you, whether you're alone traveller, a family, or a large group. Our prices are low, and our bundles are structured to give you the most bang for your buck.
So, don't wait any longer. Contact us today and let us help you plan your dream trip to Vrindavan and Mathura. We promise to provide you with an unforgettable travel experience that will stay with you for a lifetime.
Call to action: Contact us today to book your Vrindavan tour package and experience the magic of this holy city like never before.
Welcom to vrindavantourpackages.com
RECOMMENDED TOUR PACKAGES
Best of Holi Tour Packages in Mathura & Vrindavan
Let's Celebrate Holi in Mathura Vrindavan
The atmosphere is filled with fun and jubilation - typical of a festival tied to springtime joy. Without a doubt, Holi in Mathura is an incredible sight for all to behold. The Mathura Holi Festival is a month-long celebration of joy and delight, with vibrant colors and happy faces lighting up the whole region. Starting in February and wrapping up at the grand festival in Mathura in March, this festive period draws people from all over India to participate in the festivities. From Gokul to Vrindavan, Barsana to Nandgaon, it truly is one of the most remarkable spectacles on earth! Every year, famous dignitaries and celebrities flock to this area to witness its beautiful beauty for themselves - international TV teams capture all its glory for the world to see. With sweet smells filling the air and thousands upon thousands of smiles, this truly is an unmissable experience that no one should pass up on! Barsana Lathmar Holi is an incredible festival with repulsive action at Nandgaon, and the Falen Ki Holi is just as spectacular.
IT'S A COLORFUL FESTIVAL IN MATHURA
HOLI FESTIVAL TOUR PACKAGES
Exploring The Holy Cities Of Mathura And Vrindavan By Taxi: What You Need To Know
If you are planning a trip to India and are interested in exploring the religious and spiritual aspects of the country, then a visit to the holy cities of Mathura and Vrindavan is a must. These two cities, located in the state of Uttar Pradesh, are considered to be the birthplace and childhood home of Lord Krishna, one of the most revered deities in Hinduism. Mathura Vrindavan is a popular destination for tourists from all over the world. From the holy temples to the beautiful ghats, there is a lot to explore in this sacred city. To make the most of your trip, it's important to have reliable and convenient taxi services. In this post, we will discuss the top taxi services in Mathura Vrindavan and how they can help you explore this beautiful city.
Why Choose a Taxi Service in Mathura Vrindavan?
Convenience and Flexibility: Taxis offer the convenience and flexibility to explore the city at your own pace without worrying about the hassles of public transportation.
Affordability: Taxis in Mathura Vrindavan are an affordable mode of transportation, especially when compared to other options like renting a car or taking a private tour.
Safety and Security: With a taxi service, you can be assured of your safety and security while traveling in the city.
Getting There
Mathura and Vrindavan are easily accessible by road, rail, and air. The nearest airport is the Indira Gandhi International Airport in New Delhi, which is about 150 kilometers from Mathura. From the airport, you can hire a taxi or take a bus to reach Mathura. Alternatively, you can take a train from Delhi to Mathura, which takes about two hours.
Best Time to Visit
The best time to visit Mathura and Vrindavan is from October to March, when the weather is pleasant and cool. The summers can be quite hot and humid, while the monsoon season, which lasts from June to September, can bring heavy rainfall and make sightseeing difficult.
Taxi Tour
A taxi tour is the most convenient way to explore Mathura and Vrindavan. There are several taxi services available in Mathura, which offer both half-day and full-day tours of the two cities. A typical taxi tour of Mathura and Vrindavan would cover the major religious and historical sites, such as the Krishna Janmabhoomi Temple, Dwarkadhish Temple, and Banke Bihari Temple.
Krishna Janmabhoomi Temple
The Krishna Janmabhoomi Temple is one of the most important religious sites in Mathura. It is believed to be the birthplace of Lord Krishna and attracts a large number of devotees and tourists every year. The temple complex consists of several shrines, including the Garbha Griha, where Lord Krishna is said to have been born.
Dwarkadhish Temple
The Dwarkadhish Temple is another important temple in Mathura. It was built in the 16th century and is dedicated to Lord Krishna. The temple is known for its stunning architecture and intricate carvings.
Banke Bihari Temple
The Banke Bihari Temple is located in Vrindavan and is dedicated to Lord Krishna. It is one of the most popular temples in the area and is known for its vibrant atmosphere and lively bhajans and kirtans.
Other Places to Visit
Apart from the major temples, there are several other places to visit in Mathura and Vrindavan. These include the ISKCON temple, Kusum Sarovar, Radha Kund, and Govardhan Hill. Each of these places has its own unique significance and is worth a visit.
Things to Keep in Mind
When visiting Mathura and Vrindavan, there are a few things to keep in mind. Dress modestly and respect the local customs and traditions. Remove your shoes before entering any temple or shrine. Take care of your belongings and avoid carrying too much cash. Also, be prepared for a lot of walking, as some of the temples and sites are located in narrow lanes and alleyways.
Top Taxi Services in Mathura Vrindavan
Vrindavan Tour Packages: One of the top-rated taxi services in Mathura Vrindavan, Vrindavan Tour Packages offers a range of vehicles to choose from and experienced drivers who are knowledgeable about the city. They also offer customized tours to suit your specific needs.
Mathura Taxi Service: Another reliable taxi service in Mathura Vrindavan, Mathura Taxi Service offers well-maintained cars and experienced drivers. They offer both one-way and round-trip services and have affordable rates.
Vrindavan Cabs: Vrindavan Cabs is another popular taxi service in the city. They offer a range of vehicles to choose from and their drivers are friendly and professional. They also offer airport transfer services and have 24/7 customer support.
Benefits of Using a Taxi Service in Mathura Vrindavan
Local Knowledge: The drivers of taxi services in Mathura Vrindavan are locals who have a great understanding of the city. They can provide you with valuable information about the best places to visit, eat, and shop.
Time-saving: With a taxi service, you can save a lot of time and visit more places in a short time frame.
Comfortable and Hassle-free: Taxis offer a comfortable and hassle-free mode of transportation, allowing you to relax and enjoy your trip.
Customized Tours: Many taxi services in Mathura Vrindavan offer customized tours based on your preferences and needs, allowing you to create a personalized itinerary.
How to Book a Taxi Service in Mathura Vrindavan
Online Booking: Most taxi services in Mathura Vrindavan have an online booking system, allowing you to book a taxi in advance from the comfort of your home.
Phone Booking: You can also book a taxi by calling the taxi service directly. This is a good option if you have any special requests or requirements.
Hotel Booking: Many hotels in Mathura Vrindavan have tie-ups with taxi services and can arrange for a taxi to pick you up from the hotel.
Conclusion
Exploring the holy cities of Mathura and Vrindavan by taxi is an adventure that won't soon be forgotten. From discovering ancient temples to taking in scenes of rural India, there's something for everyone in this enchanting part of the country. Be sure to plan ahead and hire a reliable driver who knows his way around the area so you can get the most out of your journey. With all these tips in mind, you're ready for an unforgettable experience when exploring Mathura and Vrindavan by car!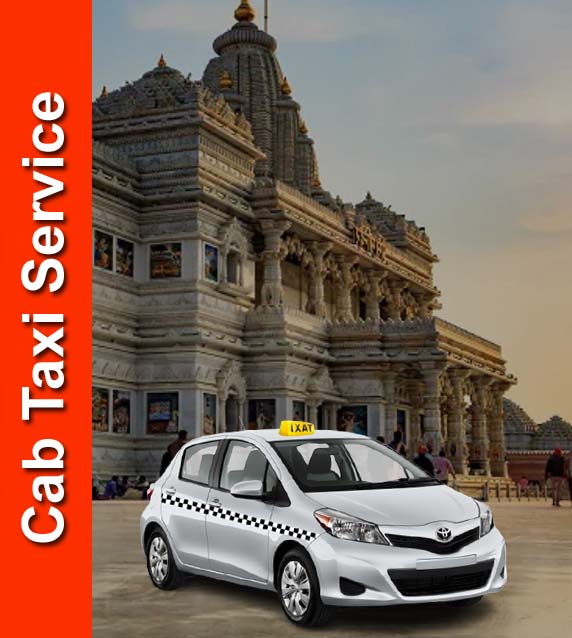 Cab / Taxi Booking - Services
Tour Packages Service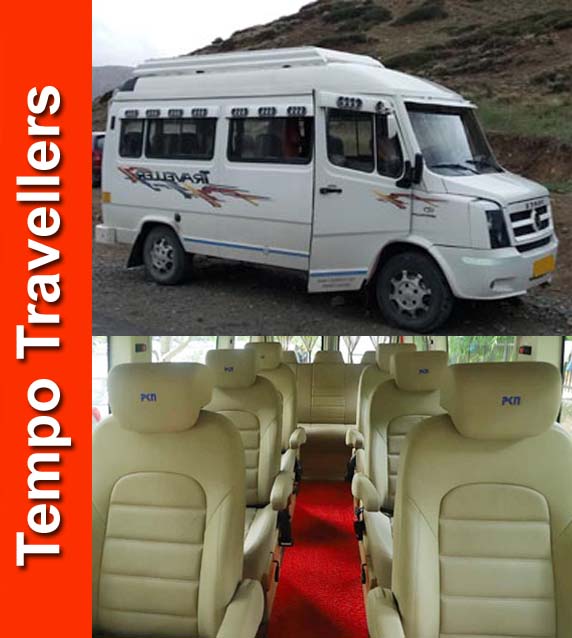 9 to 26 Seater Tempo Traveller
12 to 60 Seater Bus Booking
Mathura Vrindavan Temples